Mossel Bay's own "Forrest Gump" and Tom Selleck-lookalike is the reason why Mossel Bay's beauty and diversity will also feature prominently in cinemas worldwide next year in an international movie Tired but Strong.
Like Tom Hanks in the 1994 Oscar-winning film, Koot Steenkamp (43) cannot stop running . . . and experiencing the world from a runner's perspective, it is small wonder that Koot won't quit (except smoking) and also perceives life as a box of chocolates . . .
Handsome, strong, fit, muscled and sporting a prominent moustache, Koot has often been compared to a young Tom Selleck in his heyday Magnum PI television series in the 1980s - not a bad thing if you have connected and famous friends in the international movie-making business who happen to love South Africa and what you and other adrenaline junky long distance runners are doing . . .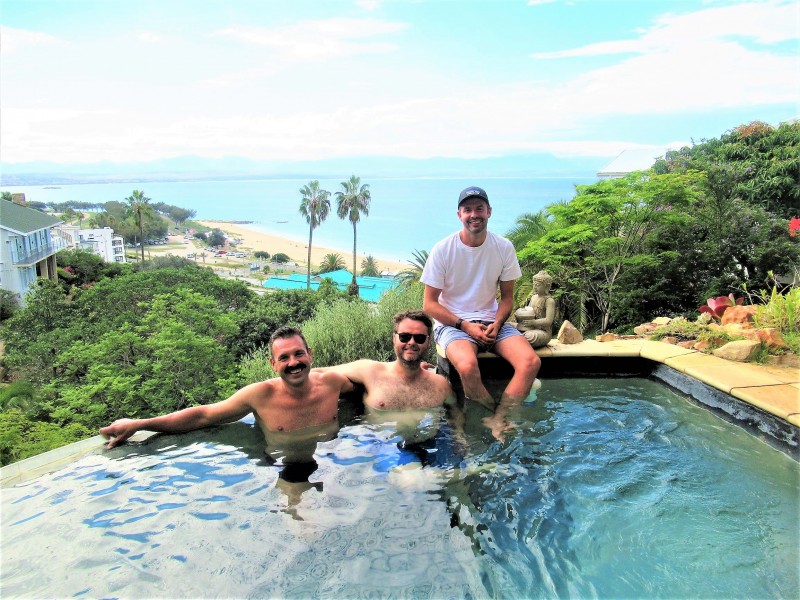 We were lucky to meet a relaxed Koot (left) and the movie-making team Robert Roworth (centre) and Morgan Cardiff from Australia on a blissfully sunny day in a guesthouse in Mossel Bay overlooking the bay. The Aussie filmmakers were scouting and capturing some location shots around Mossel Bay and all across South Africa and doing the legwork for the documentary feature film Tired But Strong - the journey to the world's oldest and largest ultra-marathon to be released on the international circuit next year.
WHY?
Koot, an architectural draughtsman at a local engineering company and a former Point High School pupil, only started running about six years ago when he quit smoking and was looking for a "healthier habit" than his 17 year-long tobacco addiction. "I never expected to run marathons, but soon got hooked and now I'm rather an adrenaline junkie."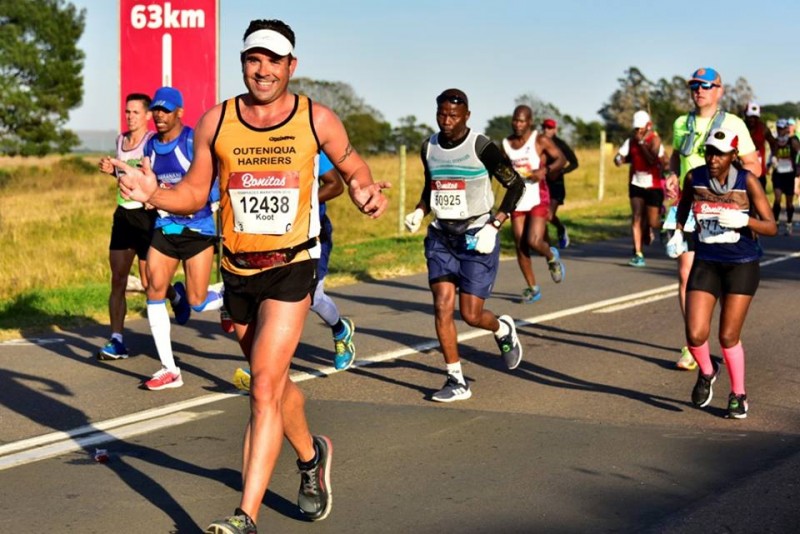 Koot Steenkamp in action during last year's Comrades. "Running can, and will change your life for the better - no matter who you are and where you start from. The toughest part is tying your shoelaces - the rest is easy."
Koot also didn't foresee being part of a group of runners to embark on a gruelling 20-day marathon in aid of daycare centres for Aids orphans in South Africa that would inspire two gifted film directors/producers to make a movie . . .
In May last year, through contacts and connections in the industry, he joined five other long-distance runners - four South Africans, one American and one Brit - on a 90 km per day run from Cape Town to Pietermaritzburg, culminating in the Comrades on the 20th day to complete their feat on a high note. The group members and film crew have met each other during previous running expeditions and via the marathon runners' network.
The four South Africans - Koot, Roger Cameron (38) and Mike Sewell (42) both from Johannesburg and well-known marathon runner Dave Chamberlain (41) from Pretoria, were joined by Carla Molinaro (34) from England and Alexander Tucker (34) from Connecticut in the USA.

Photo: http://www.rhysmorganimages.com/tired-but-strong
This mammoth accomplishment, and the unique driving force, resilience and other-worldly experience of long-distance runners to literally see, taste and sample the fruit of the earth from a runner's perspective, were what inspired the movie.
"Running is the best and truest way to REALLY experience another country and culture objectively . . . To push yourself beyond the human limits and to just carry on, no matter what . . . "
"The movie is a motivation for all - about how resilience carries you through everything," enthuses Robert, an accomplished and versatile writer, director, actor & producer working with some of the most cutting-edge and talented individuals in the international entertainment industry.
Says Morgan: "We were actually following Dave Chamberlain's 9-year-run-around-the-world since 2012. Dave has been running all over the world and was nicknamed the Penguin Runner after he ran the 2 700 km from Walvis Bay to Port Elizabeth to create awareness for the plight of the endangered African Penguin."
In October 2012, South African Dave Chamberlain set off from Walvis Bay, Namibia on a 2700km solo run for the African Penguin. 4 Months later, on a liquid-only diet and a pram as his only company, he arrived in Port Elizabeth, South Africa.
http://www.namibiatourism.com.na/blog/The-Penguin-Runner
"We made a short film The Penguin Runner of that event and realised the inspirational and motivational value of these distance-runners and how their unique experiences of different countries, towns and cultures would make a wonderful movie. When Dave and the other five runners completed their "90 km per day over 20 days" last year, we decided to do a follow-up to see how they are fairing - from then to now. How did that 1 800 km epic run affect them mentally, emotionally and physically and what message is in there for the world?"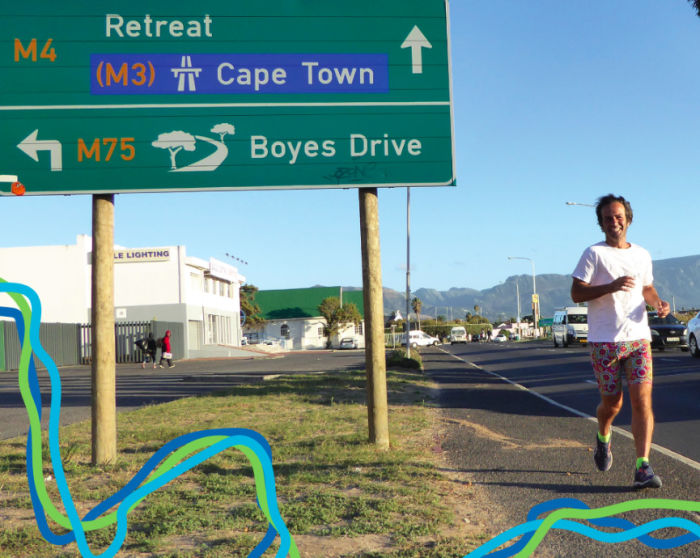 Photo: Dave Chamberlain is coping well and just completed 50 marathons in 50 days - ending with the 50th Two Oceans Marathon this weekend - to raise awareness for Birdlife South Africa. Photograph: Courtesy https://www.505050.org/
http://www.capetalk.co.za/articles/345225/capetonian-running-50-marathons-in-50-days-in-a-race-to-help-the-african-penguin
Both Robert and Morgan are adventurous outdoor lovers and seasoned travellers with an eye for a story and the knack to capture it vividly in print or on film.
They love the beauty and diversity of South Africa and the movie gave them a welcome excuse to visit the country frequently in the past year.
Where it all started:
Morgan met Dave Chamberlain years ago on a tiny, remote Nicaraguan Island called Little Corn Island. He was soon fascinated by the unconventional scuba instructor from Pretoria who not only taught him to scuba dive and swim in shark-infested waters, but also captured his imagination with tales of his long-distance solo running expeditions across the USA and from Norway to North Italy in 3 months, pushing a 30 kg pram (stroller) loaded to the brim with all the necessities he would need - a tent (for the nights and hot days), water, spare shoes, two t-shirts, a pair of shorts and spare rubber.
When Dave mentioned his plans to embark on a 2 700 km solo run from Walvis Bay in Namibia to Port Elizabeth to raise awareness for the African Penguin, the seed was planted . . . and two years later Morgan accompanied Dave for a month of his 4-month Penguin Run across the diverse and divine landscapes of Namibia and South Africa - capturing it afterwards in print and photos under the title The Penguin Runner - 2 700 km unsupported through the oldest desert on Earth.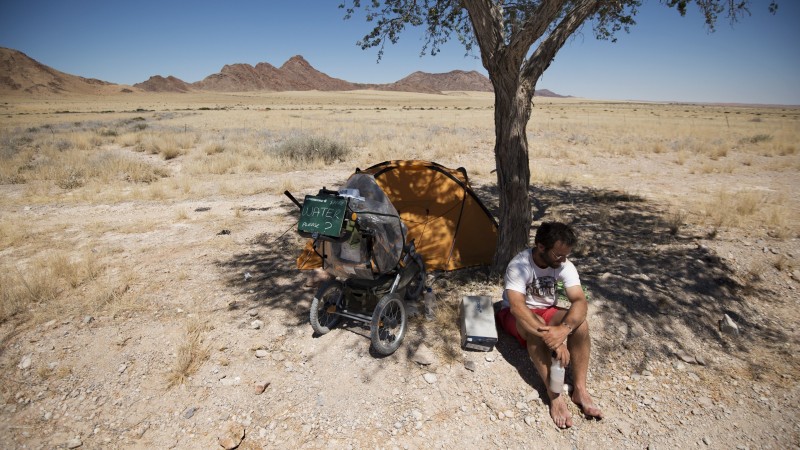 A photo of Penguin Runner Dave Chamberlain resting under the only roadside tree for 50km, captured by Morgan Cardiff.
https://medium.com/rhys-morgan-field-stories/the-penguin-runner-70704ca7e7c3?
Now Robert and Morgan are back and forth in South Africa to finalise a unique movie about real life Forrest Gumps like Dave and Koot who are addicted to the euphoric, pleasurable pain of pushing beyond the limits to explore and experience new places and people in the most tangible way.
"Do people realise how far 90 km is when you run across varying landscapes? It is the distance from Mossel Bay to Oudtshoorn, but from Cape Town to Pietermaritzburg it is like crossing 9 different countries as the terrain, climate, culture and towns change . . .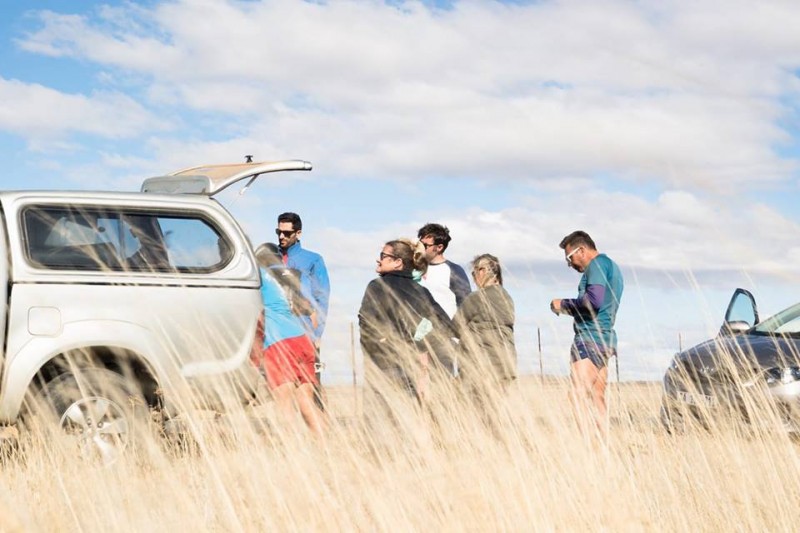 The six runners on Day 12. Koot kept a short running commentary on his FB page: " Day 12. Woke up this morning, once again, in a bed completely soaked in sweat. We have all had this phenomenon occur since day one of our adventure, to a greater or lesser degree. It seems that the body simply decides to launch a massive immune response due to the load of those first six days, continuously running 90km per day. Even with very little running during the last couple of days, the fever like symptoms still remain.
All six of us were keen and happy to log some more miles today, and saw us jog into the seemingly never-ending expanse of road and grassland outside Tarkastad.
It felt good to be back on my feet and running again, and with fresh leg speed, the kilometres seem to fly by at first.
Ten km into the day I realised that my ankle was obviously not ready to run, and by 15km the pain became excruciating... muscle and tendon tearing and bone splintering off at each step. Well, that was a good tapering run, I thought to myself as I pulled up to our seconding vehicle at 21km, realising that any more running would be counterproductive if I'm even going to contemplate lining up at the start of the ultimate human race in a week's time.
Moments like these are always so humbling, and takes so much discipline...
Alex came in at 20km basically in the same sorry state as me. Dave, having found his groove, and his seemingly only t-shirt now showing proper signs of not seeing a wash for more than a week, kept going after a quick bite and chirp regarding said t-shirt being perfectly good for many more days.
Roger is still clocking too, Carla and Mike in pursuit, and all in good spirits despite looking like Christmas trees due to all the Kinesio tape.
Another short glimpse into the lives of a couple of humans slowly making their way across the face of a planet, circling an unspectacular medium-sized star, in a fairly small solar system, in our favourite galaxy, the Milkyway.
Strange the importance we continually attach to our lives and ventures, only to realise, when stepping back, that it's temporary. All of it.
That very fact, may seem defeatist or depressing, but for me, it serves the opposite purpose; it emphasizes the importance of embracing each moment, cherishing the life we are privileged to experience.
Here comes Dave... let me go join him... even if just for 10km more. Life. Happiness. It's yours to create.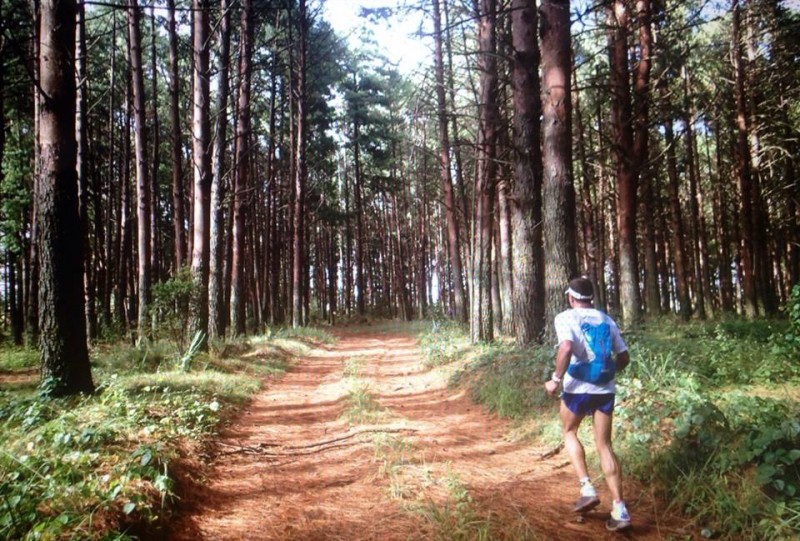 Says Robert: "The running community seems to be connected through this unspoken language . . . they understand the pushing to the limits. You have the in-between moments when you are in awe of the vista, but 30 seconds later you have to focus again on your breathing techniques or ways to conquer the pain . . .
"It is an addictive, euphoric, pleasurable pain . . . if you stand still, tired wins," Robert said.
"Running is not only to get from point A to point B - it is about becoming one with, and absorbing the various places and people with all your senses . . . the unique landscapes, sounds, smells, tastes, colours and cultures that only running enables you to experience.
"That is what the movie is about . . . getting up and pushing through, because if you stand still, tired wins . . .
Why sit on the sideline of life if you can be part of it?"
What about the crime and political instability in South Africa?
"South Africans are unusually unique people. They are most friendly, interesting and engaging. For a country that suffered division for so long and where the wounds are still healing, I found them to be some of the most inclusive and unified people I have ever seen when supporting fellow countrymen.
"Besides, South Africa has the two best marathons in the world . . . the Comrades is THE ultimate human race and the Two Oceans is the most scenic and beautiful race in the world! "
Koots' daily commentary seems to echo Robert's sentiments . . . this is what he wrote on Day 13 of their 20-day run: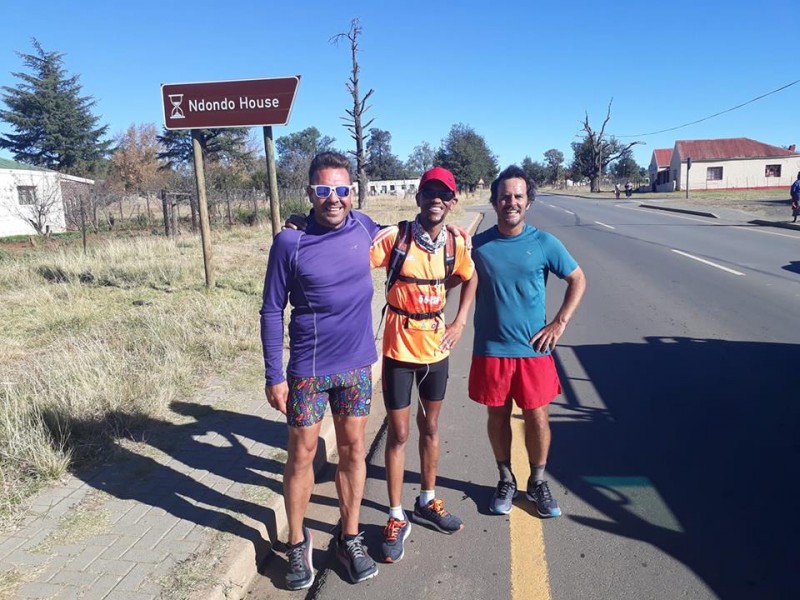 Day 13.: Had a wonderfully relaxing end to our day yesterday, spending a precious hour or two around a fire with the crew and supporters Adèle Croucamp, who drove all the way from Potchefstroom, and Graeme Holmes, the man behind The Grahamstown Project. Such acts of support and kindness goes a long way in keeping our spirit up at this stage, where the days on the long road to Comrades are indeed long. Thank you to all who have been urging us on, following our tediously slow journey to Durban. I assure you, no word or like goes unnoticed.
We started the day with the fresh 0 degree Celsius morning chill blowing softly through the landscapes of the old Transkei. The vernacular now having changed from farmland to rural settlements scattered far and wide along the valleys and mountainous foothills. Fresh brooks lazily winding their way through the grassland and green backdrop of acacia veld. Sunday morning sleepiness seeing the lone herdsman tends his flock of sheep or driving a herd of cattle to greener pastures.
As I ran along these roads, connecting communities and people, with little concrete bus stops every 3km along, daintily decorated with amateur art, urging the user to forego drinking or doing drugs, I could hardly help but reflect on how big a part community plays in one's own happiness and wellbeing. Here, life seems to be all about the community. Neighbours. Helping each other and being dependent on each other. These little huts and houses, each with its families and circles of trust, connected by necessity. We can all learn from this, especially in an age where social media seems to create islands of separation, despite the promise of connecting people.
My left ankle is healing up slowly. Too slow of course, for my liking, but enough to allow me to run. An essential part of my day and life. I try and get as much out of it as I can without causing further or permanent damage. Yesterday that was 30km... today, 40km. As I go along, thinking; maybe just try and hit 50km, I remind myself how personal one's goals are, and how personal this journey has become for each of us. At the end of the day, nobody really cares how much or how far or how fast someone else ran, or what they achieved... it is only you. Your ego.
How much do we sacrifice of our lives, be it time, or health, to oblige perceived expectations? Maybe I should remind myself more often that life is a personal journey. Take the pressure off. Live your life and enjoy who you are. It's yours and yours only.
Roger had a bad day out with shins playing up again, but the team are slowly getting their mojo back after a week of being plagued by injury. Alex managed 44km while nursing his ails, while Mike and Carla stuck together to log 60km. Dave, now reserving his t-shirt for night use only, will come in at 75km for the day.
I'm super proud of every one of this team, seconding crew Natalie Mac Lean and Denise Sewell looking after us every step of the way. The camera crew's friendly smiles and chirps brightening up even the gloomiest moments.
My little community. Our dependence. It goes to show; we can all reach out and connect, enriching not only our own, but each other's lives.
How are Koot and the others fairing a year after their 20-day marathon?
One or two of the runners are still recovering from some injuries and other mishaps, but Koot and Dave were back on top form at Saturday's Two Oceans marathon where they ran into Morgan and Robert capturing the event as part of the Tired But Strong movie in the making . . . .
More about the movie directors/producers: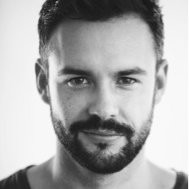 Morgan Cardiff is a freelance director/ producer at Rhys Morgan Images as well as a senior environmental scientist at WSP in Australia and New Zealand. He was also the director, producer, photographer and editor for the short film The Penguin Runner about the well-known SA marathon runner Dave Chamberlain.
http://www.rhysmorganimages.com/
Robert Roworth is a Sydney | New York-based writer, director, actor & producer. Dubbed "the filmmaker's director, he is first and foremost a creative which enables him to realise both the writer and director's dream . . . whether it be an 1850's period drama or an international political spy thriller, Robert is able to exhibit a strong, artistic sensibility into every production. These qualities honed from his years as an actor on the Stage.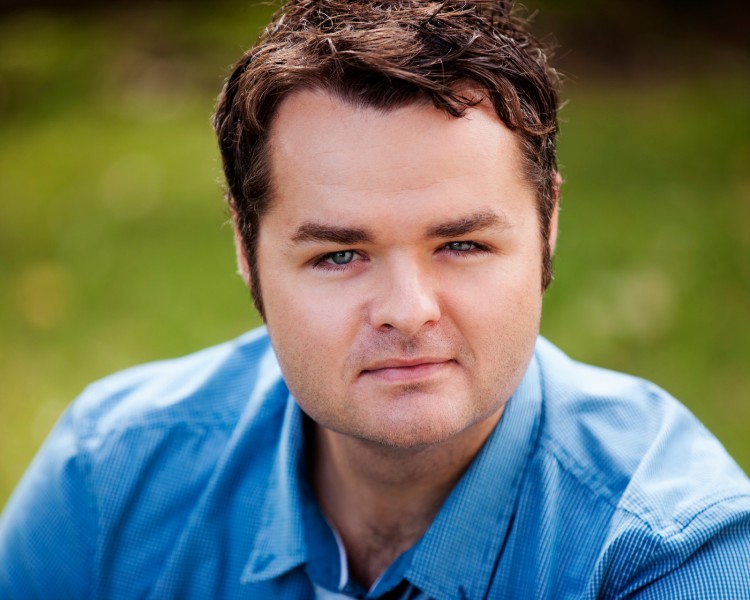 https://www.johnnypictures.com/robert-roworth
Read more here: https://www.tiredbutstrongfilm.com/
More news and photos on our Facebook page:
https://web.facebook.com/mosselbayontheline/posts/2384710155093571?
Paasnaweek het relatief rustig in lekker weer in die Mosselbaai-omgewing afgeloop in skrille kontras met die nege plaasaanvalle, geweldsmisdaad en hoë padsterftesyfer in die res van die land.
Vandag se welkome reënweer maak die oppak ná die Paasnaweek dalk makliker, maar die paaie en terugtog huis toe aansienlik gevaarliker en Paasgangers word gemaan om versigtig te ry en verkeersopeenhopings weens die nat paaie te verwag.
* Die pragtige volmaan oor Paasnaweek het fotograwe aangespoor tot dié pragfoto's hieronder, maar die gepaardgaande springgety en rowwe seetoestande het ook tot verskeie verdrinkings langs die SA kuslyn aanleiding gegee. By Diasstrand het 'n man verdrink nadat hy vermoedelik 'n hartaanval gehad het.
* Die Mosselbaai-omgewing se pragtige natuurskoon bly maar 'n lus vir die oog en om binne raakafstand van 'n skool dolfyne te swem, is 'n hoendervel-belewenis. Albie Spies het 'n reeks foto's van dolfyne in Boggomsbaai geneem wat letterlik tussen die swemmers baljaar het.
* 'n Klomp varswatervissies wat by die Hartenbosrivier uitgespoel het nadat die monding oopgemaak is, het inwoners opnuut bekommerd en omgekrap oor die swak toestand van die rivier en die impak van die klomp verwerkte riool- en gesuiwerde varswater vol chemikalieë wat daagliks vanaf die watersuiweringswerke in die rivier gepomp word en die chemiese balans van die water versteur. (Meer onder foto's)
* Run Forrest RUN! 'n Mosselbaaier wat saam met vyf ander langsfstandatlete 20 marathons in 20 dae vanaf Kaapstad tot in Pietermaritzburg afgelê het, het gesorg dat Mosselbaai ook prominente blootstelling kry in 'n internasionale film Tired But Strong wat na verwagting vroeg aanstaande jaar uitgereik word. Koot Steenkamp (43) het deur sy hardlopery skouers begin skuur met bekende atlete soos die Penguin Runner Dave Chamberlain van Pretoria en ander. Twee Australiese filmmakers is só aangegryp deur die Suid-Afrikaners se passie en uithouvermoë op die langpad, asook die land se skoonheid, dat 'n vollengte fliek wat ook die Comrades en Two Oceans insluit, nou oral in Suid-Afrika - en Mosselbaai - geskiet word. (Lees meer onder foto's).
* Terwyl 'n skokverslag deur Ratings Afrika toon dat munisipaliteite landwyd op 'n afgrond afstuur en Mosselbaai munisipaliteit vanjaar die top-plek vir finansiële stabiliteit op dié indeks verloor het, is nuwe onderhandelinge wéér aan die gang gesit oor 'n moontlike samesmelting met George munisipaliteit om 'n metro te vorm. Inwoners is opnuut bekommerd dat Mosselbaaiers sal moet opdok vir George se skuldlas terwyl hulle reeds in hewige opstand is oor die voorgestelde tariefverhogings en 15% styging in eiendomsbelasting volgens die konsep-begroting vir die 2019/20 boekjaar. (Lees meer onder foto's)
* Twee hartseer selfdood-gesinstragedies kort voor die Paasnaweek waarin twee pensioenarisse eers hul vroue en daarna hulself met 'n haelgeweer doodgeskiet het, het die land geruk en opnuut vrae laat ontstaan oor watter impak die misdaad, geweld en swak ekonomie in die land op die psige van inwoners het.
Trevor (67) en Elma (52) Davis is verlede Sondag dood in hul huis in Mosselbaai aangetref nadat Trevor eers vir Elma en daarna homself met 'n haelgeweer geskiet het. In Brackenfell het 'n soortgelyke tragedie homself Woensdagoggend afgespeel toe Izak Niewoudt (62) eers sy vrou Gertruida (ook 62) en daarna homself met sy haelgeweer doodgeskiet het. Hul gebroke seun (ook Izak) het op hul lewelose liggame afgekom en sukkel om sin daarvan te maak omdat sy ouers gelukkig getroud was en almal uitgesien het om saam die Paasnaweek op Langebaan aan die Weskus deur te bring.
'n Leser se eerlike mening oor dié gesinstragedies waarby "oënskynlik gelukkige" pensioenaris-egpare betrokke is, gee 'n indringende kykie in die werklikheid:
* Leser skryf:
"Sterkte Izak en ook aan jou susters. Ek wil jou net gerusstel. Dit is niks wat iemand verkeerd gedoen het nie.
Ek dink dis die tekens van die tyd. Ek en my man is ook jou ouers se ouderdom en ons is ook afgetree. Meeste van
ons kinders is oorsee en ons gun hulle die vrede en beter toekoms wat hulle in ander lande kan geniet.
Die lewe hier het baie duur geword en die oumense sukkel om te oorleef. Ek en my man het hard gewerk en al ons kinders deur Universiteit gekry sonder beurse en dinge. Ons het ook albei ons werke verloor en moes elke keer van vooraf begin.
Ons blameer niemand nie, life happens, maar omdat daar sekere goed gebeur het is jou finansies in die knyp hier op jou oudag, want jy moes jou pensioen elke keer inboet om kop bo water te hou.
Die pensioen van jou laaste werkgewer is te klein. Die staat voorsien jou van 'n pensioen, maar dis moeilik om daarmee te oorleef. Jy moet bly afskaal. Jy begin by jou medies, dan jou polisse, dan assuransie en dan jou lewens
standaard. As jou kar breek dan kan jy dit nie regmaak nie en so gaan dit aan.
Jy voel in almal se pad en dan eendag kry jy dit nie meer reg om die masker aan te sit nie. Ek sê nie dit is wat in hierdie mense se geval gebeur het nie en ek veralgemeen nie, so moenie my kruisig nie, maar glo my ek het ook al so gevoel.
Miskien was hulle tydsberekening net uit en moes hulle vir oulaas saam met die kinders gaan vakansie hou het."